We offer services in Personal Training, Nutrition counseling, Small Group Training, Bootcamps, Tough MAMA, Open Gym and lectures on public health and armwrestling.
We look at the individual, its goals and conditions. We turn to private individuals, companies and schools that want to help achieve a healthier lifestyle.

Armwrestling

Want to learn more about Armwrestling? We're working on fairs, leisure centers, bachelor parties, company parties and more. We can also arrange tug of war and ax throwing.
Classes can also be held in English


OPEN GYM
Open Gym means that you do your workout on your own. During a Group Session the Group always take precedence over equipment and surface. Open Gym is possible every day of the week from 04.30-23.30 if you have a valid tag. We refer to the small room in the gym under Group Training hours. For purchase of tag / membership send an email to info@erikapersonaltraining.com

Tough MAMA
Tough MAMA is suitable and safe training for those who have recently given birth or are pregnant. You meet other mothers who are in the same situation and you inspire and support each other during sessions. The best part is that the child is with you and you don't have to think about getting a babysitter. If you are pregnant, you should have contact with your doctor and if you have recently given birth, it is good if you have been in testing 6-8 weeks after delivery. Exercise program and diet plan included, control of the deep abdominal muscles and diastasis.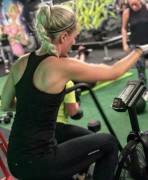 SMALL GROUP TRAINING
What´s small group training?
We´d like to explain it as simple as Personal training in groups, of maximum 10 people. Out highly skilled coaches leads each individuals though a challenging, sweaty, functional and fun workout - that is adaptable for whatever physical level your on!
Always different workouts.