CLASSES CAN ALSO BE HELD IN ENGLISH!
We offer services in Personal Training, Nutrition counseling, Small Group Training, Bootcamps, Tough MAMA, Open Gym and lectures on public health and armwrestling.
We look at the individual, its goals and conditions. We turn to private individuals, companies and schools that want to help achieve a healthier lifestyle.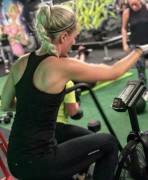 SMALL GROUP TRAINING
What´s small group training?
We´d like to explain it as simple as Personal training in groups, of maximum 10 people. Out highly skilled coaches leads each individuals though a challenging, sweaty, functional and fun workout - that is adaptable for whatever physical level your on!
Always different workouts.

OPEN GYM
Open Gym means that you do your workout on your own. Small Group training do always take precedence over equipment and surface. Open Gym is possible every day of the week from 04.30-23.30 if you have a valid tag. We refer to the small room in the gym under Group Training hours. For purchase of tag / membership send an email to info@erikapersonaltraining.com
MOBILITY
Do you want to get a more efficient and qualitative mobility? Then this is a passport for you! Reduced mobility and lack of control in your various joints and muscles often mean limitations both in everyday life and in exercise. Exercising mobility reduces the risk of injury and allows you to utilize the full capacity of the body.
KIDS WORKOUT
Children between the ages of 7-14 train here! Elements such as warm-up, reflex and final are parts in the actual workout. The main purpose is for it to be fun and playful but at the same time challenging for the kids!
Parents are not involved in the training but are welcome to wait in the hall!

Tough MAMA
Tough MAMA is suitable and safe training for those who have recently given birth or are pregnant. You meet other mothers who are in the same situation and you inspire and support each other during sessions. The best part is that the child is with you and you don't have to think about getting a babysitter. If you are pregnant, you should have contact with your doctor and if you have recently given birth, it is good if you have been in testing 6-8 weeks after delivery. Exercise program and diet plan included, control of the deep abdominal muscles and diastasis.







ONLINE WORKOUT

Online Training with Erika Personal Training!

You buy the classes individually for SEK 70!

You can start at any time of the month. Our job is to ensure that you get a challenging, sweaty, fun and spicy workout with the simplicity of being able to perform your workout anywhere, anytime and completely without tools. If you want to use tools, we show alternatives for this. Train digitally with us, we train at the same time with you in front of the screen. You easily connect via your computer, phone or your smart TV.

HERE WE GO!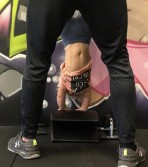 MINI KIDS WORKOUT
Children between 4-6 years old!
Obstacle courses, games, movement activities, acrobatics and much more are elements of the class-setup. The focus will be on the children having fun and being able to move without too stringent requirements.
The children come to train themselves, but parents should be present either on the green carpet or in the hall during the session.
You pay 90:- / time and per child. Both members and non-members can book their children.
Also remember that all training takes place at your own risk and therefore we ask the parents to be present at all the training sessions.
Armwrestling
Want to learn more about Armwrestling? We're working on fairs, leisure centers, bachelor parties, company parties and more. We can also arrange tug of war and ax throwing.

DIET/TRAINING ONLINE
Erika Personal Training now offers training and / or diet advice online!

You choose if you want to sign up for either exercise or diet or why not both?

We will give you the tools, support, motivate and guide you to a balanced, fun and healthy lifestyle with sustainable results. We work with different approaches in weight loss, muscle building, balanced lifestyle and during / after pregnancy.

When you register, you get a layout that is completely adapted to YOU, YOUR goals and YOUR conditions. You get access to your own app where you have everything gathered in one place, including a live chat with your coach. We do not work with Quick fixes, so you sign up in at least 3 months. During this time, we do follow-ups continuously and change the layout so that you always get closer to your goal.

Different layouts to choose from:

• Only diet SEK 950 / month (minimum 3 months)

• Training only SEK 950 / month (minimum 3 months)

• Diet + Exercise SEK 1495 / month (minimum 3 months)

Are you ready to do the job?